Sunday Mass
A very warm welcome to Mass on Sundays with Fr Bernard
Sacred Heart Church is open for Sunday Mass with a congregation with the Vigil mass on Saturdays at 6pm and Sunday Mass at 10.30am. No booking is required.
In addition, Fr Bernard celebrates Mass on Sunday at 9am which is streamed "as live" each Sunday morning and is available anytime on the Sacred Heart Facebook page

Click on the image or the link below to go to the Facebook page for Sunday Mass and also Thought for Day videos from Fr Bernard and other updates.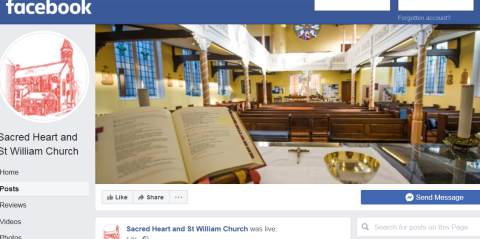 https://www.facebook.com/pg/Sacred-Heart-and-St-William-Church-101748404849382
**You do not need to log in or sign up to a Facebook account to join in *
The aim is to share and celebrate Mass and Reflections with as many people as possible.
*Facebook may try to encourage you to sign up or log in, so you may need to close the Facebook sign in pop-up window, sometimes a X at the top right hand side, sometimes a "Not Now" link, sometimes scrolling down further, or tapping/clicking on the Sacred Heart page behind the pop up. *
with thanks to Mike Farmer for his equipment, enthusiasm and expertise