Sunday Mass
A very warm welcome to Mass on Sundays with Fr Bernard.
As Fr Bernard celebrates Mass on Sunday it will be streamed "as live" from 9am each Sunday and is available anytime on the new Sacred Heart Facebook page

Click on the image or the link below to go to the Facebook page for Sunday Mass and also Thought for Day videos from Fr Bernard and other updates.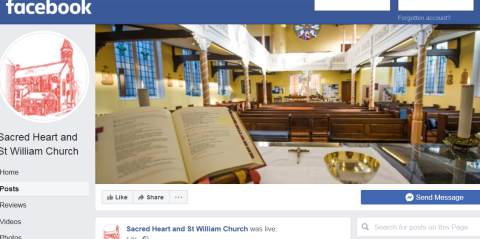 https://www.facebook.com/pg/Sacred-Heart-and-St-William-Church-101748404849382
**You do not need to log in or sign up to a Facebook account to join in *
The aim is to share and celebrate Mass and Reflections with as many people as possible.
*Facebook may try to encourage you to sign up or log in, so you may need to close the Facebook sign in pop-up window, sometimes a X at the top right hand side, sometimes a "Not Now" link, sometimes scrolling down further, or tapping/clicking on the Sacred Heart page behind the pop up. *
Fr Bernard speaks...
This is a very different way of being parish. I don't think I had really appreciated the value of the internet so much before now.  Being able to get into so many homes has been terrific for me and I hope also for you.  It is a way of staying in contact and also offering things to read and on which to reflect.

As I celebrate Mass somehow knowing that people are able to join through this web site if they wish makes a difference. Thank you for so many emails thanking me for the Masses and asking me to thank those who make it possible.  

Whilst we cannot meet in the current situation, the home is where most of us will pray, either alone or with other family members. The daily Mass readings are available on the website along with other resources to help us to pray.  Let us remember each other in prayer.
with thanks to Mike Farmer for his equipment, enthusiasm and expertise